With this in mind, we speak to the Award winning Newquay Activity Centre who provide fun and exhilarating ocean and coastal adventures. With over 20 year's experience, they are experts in surfing, bodyboarding, coasteering, stand up paddleboarding (SUP) and kayaking. It's an ideal time to jump onto any of their ocean activities.
With seven golden sandy beaches, miles of beautiful coastline and a vibrant town centre, there's always something to do in Newquay. Whether it's a day out with the family, a relaxing holiday, or a chance to try something new, the North Cornish coast has something for everybody.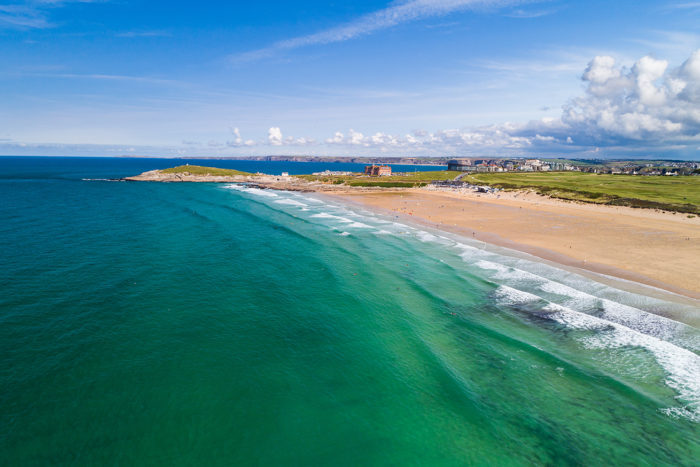 Surfing in Newquay.
Since the early '60s, Newquay has been known as a surfing mecca with one of the best surf breaks in the UK, Fistral Beach. It all began with a group of Australian surfers, who arrived in town with their fibreglass surfboards. Wowing the locals with their cool surfing style, they began a trend which changed Newquay forever. Surf shops and board shapers sprang up and by 1966, Rod Sumpter became Britain's first professional surfer. Through the 70's and 80s, local legends emerged including Keith Beddoe, Mike Etherington and Nigel Semmens who became European Champion in 1981. Today, Newquay's surf scene thrives with the surf population increasing year on year. With the popularity of the Boardmasters Festival, visitors are more switched onto surfing than ever.
Explore and learn
But it's not all about surfing. The Cornish coastline comes alive from early spring onwards and less stormy waters provide a perfect environment for all ages. With an array of activities for all the family, friends or groups can experience an ocean adventure that includes:
Riding waves
Discovering hidden coves and smugglers caves
Learning tales of smuggling, pirates, eco and heritage
Traversing cliffs and jumping off into the open sea
Experience the coastal wildlife while learning new skills
Coasteering
It isn't only about jumping off high cliffs, coasteering allows participants to explore the incredible wildlife, traverse the craggy cliffs, find secret caves and learn more about Newquay's fascinating history through tales of shipwrecks, pirates and smugglers. Every trip is vastly different, and the large tidal range on spring tides, change the dynamic of the journey. You'll paddle into caves that were previously not accessible, and see marine life that can only be spotted at low tides. Explore the open ocean around Towan beach or paddle out to the Gazzle, a 2km stretch of coastline which is rich in marine wildlife. Home to grey seals and cormorants, it's also not surprising to see puffins and dolphins if you're lucky! Look out for Crustaceans and anemones which live in the deep rock pools and cliff edge alongside crabs, lobsters and starfish.
Kayak adventures.
On a kayak tour from Towan beach, you'll pass famous Newquay landmarks including the iconic island house with a 90ft suspension bridge which you can paddle under at high tide. You'll also see local fishing spot, the Fly Cellars, which was used during the 19th Century for pilchard fishing, as well as the smuggler's cave which was used to store tea, brandy, wine and silk. Further around the headland you'll see one of the steepest lifeboat slipways in Europe. It was also the scene of Newquay's most famous rescue attempts in 1917 to save the stricken, upturned Osten. The crew braved ferocious conditions and survived for 3 days by hiding in the Tea Caverns cave. For an added element, try a fishing kayak adventure. Onboard your kayak, you'll gently paddle by the quiet spots of the craggy coast. The kayak provides a comfortable base for you to throw your fishing line, relax on the ocean and wait for your catch! A great new experience to do whilst enjoying the coast and wildlife.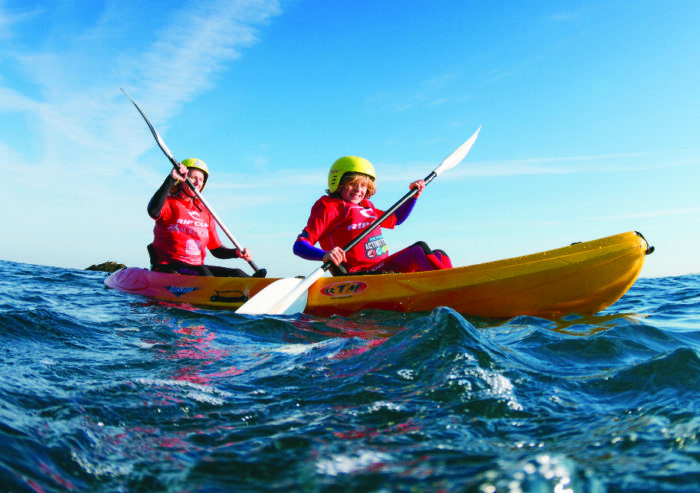 Stand Up Paddle Boarding (SUP) and Super SUP
The Super SUP is the newest trend to hit the UK – it is perfect for the whole family or a group of friends and encompasses surf and an exciting, coastal experience. The Super SUP is a large stand up paddle board, which a group of six will learn how to launch from the beach, paddle, balance, kneel and stand up paddle. You'll practice how to perfect your combined paddle strokes and surf the waves, together!
For an individual SUP experience, head out into the open seas from Towan, passing the iconic white Huer's Hut, or take a gentle cruise along the Gannel Estuary. Positioned just south of Pentire Headland where the Gannel meets the sweeping sands of Crantock Beach, it is tucked away from the buzz of Newquay's popular beaches. Best explored at dawn or dusk when the spring tides are at their biggest, keep your eyes peeled for an array of birdlife.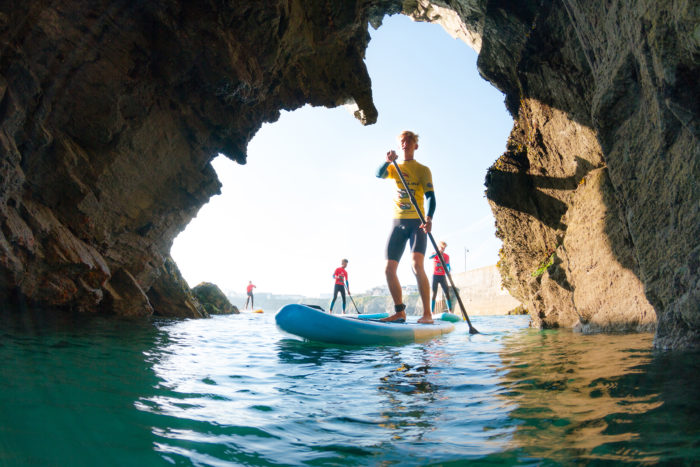 Vitamin Sea
If you're an early riser, there's no better place to experience a dawn sunrise than from on board your kayak. The calm waters of Newquay's River Gannel brings a serene and tranquil experience and easy kayak tour amongst the wildlife and nature. It's a great way to start the day.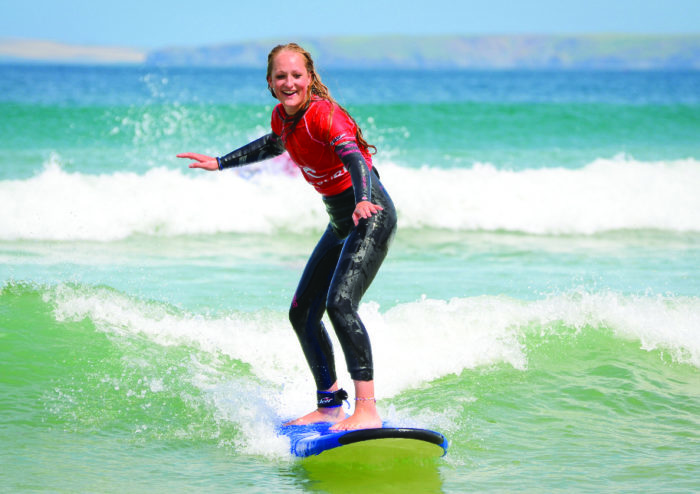 Newquay Activity Centre Director Rob Barber says "Newquay really is a special place – awesome surf conditions, gorgeous beaches and places to eat after you're surfed out! We get a buzz out of showing guests how to get the absolute most out of the Cornish coastline. Being in the ocean is refreshing and invigorating, come spring, summer or winter. We see guests returning from their activities with big smiles on their faces and ready to try new adventures. We look forward to seeing you at the beach!"