In our latest blog, we take a look at some of the more unusual places you can have something to eat and drink around the county and we've handpicked a few our favourites. So why not have some fun discovering some of Cornwall's unsung culinary heroes, the perfect excuse for a summer holiday foodie adventure!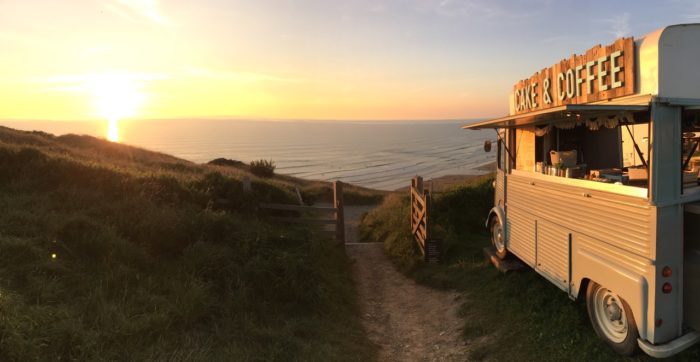 Kern of Kernow, various locations.
A set of cake loving twins and a van called Beyoncé! Kern is both short for 'Kernow' the Cornish name for Cornwall and a German word meaning nucleus, the centre of something, the core. The twins behind Kern were born in Germany and although haven't lived there since they were 10, they still love the country and doff their caps to pretty much everything the clever Germans come up with, especially their sweet treats.
The twins wanted their German roots to be represented in their foodie venture, and so not only is the name a nod to this but the treats on offer are German bakery inspired, the delicious German bundt cake. "We believe in good homemade cake, good coffee and great tea. The fact we can fuse our love of Cornwall, cake and coffee inside a 70s van makes us very happy and we hope we can brighten your day and taste buds too" said Kris.
Whether you've cycled your bike along the Camel Trail, you're warming up after a wintery surf or taking your dog for a walk, Kern of Kernow is the perfect spot to stop, soak up your surroundings and enjoy a slice of Kern heaven.
Their location changes throughout the year, so to get the most up to date info of where to find them, follow them on Instagram @kernofkernow or visit their website www.kernofkernow.co.uk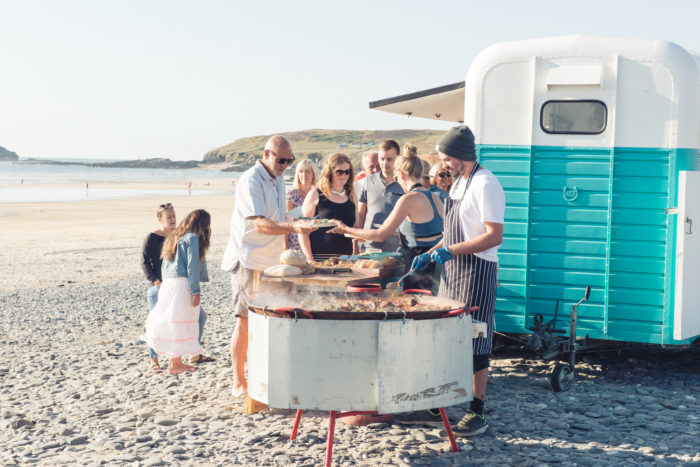 The Hungry Horsebox Co, Gwithian Beach.
A company committed to the environment, their community and visitors to Cornwall, who love this beautiful, creative county as much as we do.
Ben and Kelly, both hospitality lovers, are hugely passionate about the experiences gained through food and how it can help bring people together, they combined their experience and passion, to create the extremely popular, Hungry Horsebox Co. Located on the beach at Gwithian (they really do have the best view!) they're open from Easter until September and all the school holidays around the year.
As well as barista coffee, teas, soft drinks, milkshakes, fruit juices and waters they have a large selection of cakes, tray bakes and sweet treats (all homemade). They have a small menu which changes daily, serving things like chilli's, curries, tagines and beach picnics, with hummus, mackerel pates, salads and freshly baked bread. Their sunset beach cookouts are not to be missed and sell out fast, check out their website for details.
Off Road Coffee, Camel Trail.
Off Road Coffee is a catering business run from a beautifully restored Landrover, their passionate and skilled baristas make smooth coffee for any terrain. Owners, Alex and Bethany Wade established Off Road Coffee through ambition, dedication and a clear vision; they don't claim to be reinventing the wheel, but do believe that their attention to detail and eye for perfection makes their coffee business stand out from the rest.
Off Road Coffee has now been running for just under a year. In that time, they have occupied a pitch at the very picturesque spot, Grogley Halt, which is half way between Bodmin and Wadebridge on the Camel Trail, as well as trading at local Cornish festivals and events including Tunes in the Dunes, Rock Oyster Festival and Wadebridge Food Festival.
Looking after the environment and the world that we live in is at the forefront of Off Road Coffee, particularly with living on the doorstep of such a beautiful coastal location. All of their cups are 100% compostable and they also offer money off to customers who bring their own reusable cups. Even their Iced Coffee 'plastic' looking cups and straws used for cold drinks are in fact made from starch and break down within 12 weeks. Off Road Coffee are also very proud to be green and eco-friendly by incorporating Solar panels to charge the battery meaning that they don't require the use of a generator.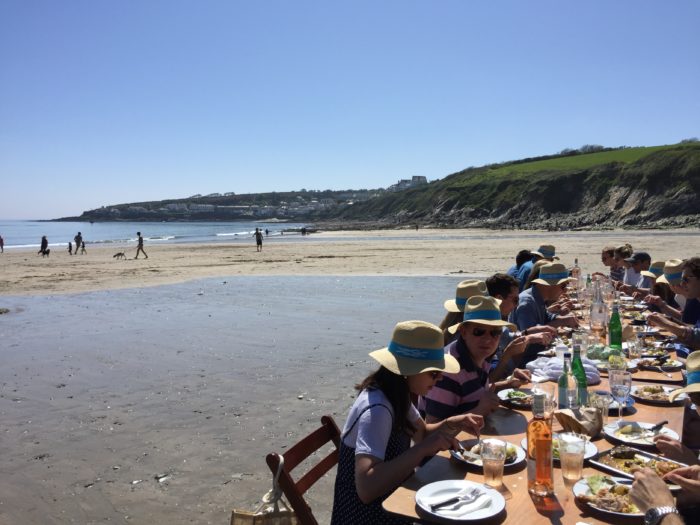 Woodfired Canteen, various locations.
Woodfired Canteen was founded by Ben & Sam Quinn, born out of Ben's experience in the hospitality industry and Sam's career in the voluntary sector.
Ben always knew there was more to the kitchen than just another plate of food and Sam brought the know how required to enable their business to become more purpose led. What they created is a business that has more at its heart than feeding for the sake of it! Woodfired Canteen have a simple purpose – to create lifetime memories.
Woodfired Canteen is all about good people, and good food; cooking over live fire in front of their guests, feeding huge numbers of people on long tables, serving to the centre of these tables – enabling those around the table to share in the experience of breaking bread. Woodfired Canteen deliver so much more than flavourful plates of food!
The team have supported some of the best chefs in the live fire world and continue to cook all over the South West and beyond, for communities and people with the most important stories to tell. With a Summer of festivals and long tables in fields, on beaches and looking over cliff tops, follow the action at www.instagram.com/woodfiredcanteen and if you have a story to tell get in touch and let the team lay a table for you!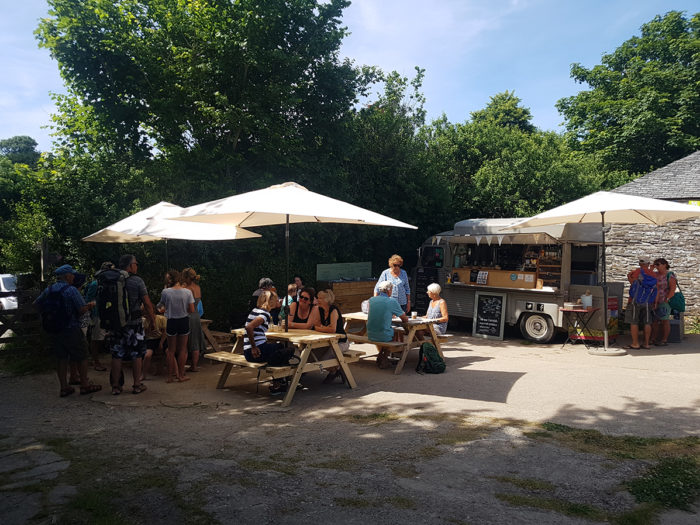 The Thirstea Company, The Roseland Peninsula.
Started back in 2013 by two Guildford School of Acting trained theatre technicians, who were feeling disenchanted with their chosen career paths; they decided to give it all up, move to Cornwall and open a café. Within a few short months of making that decision, they had a name a kitchen, and most importantly the star of the show, their van, Earl.
Having fallen in love with the inimitable Citroen H Van, a rollercoaster journey followed and they served their first cup of tea in early May 2014 and have been going strong ever since. Pitched at the National Trust's Porth Farm on the Roseland Peninsula, the van is perfectly sited on the circular walk around St Anthony's Head, and also just a few yards up the path from the beautiful Towan Beach. With plenty of car parking, onsite toilets, and dog-friendly all year round, Towan beach is a wonderful day out for all the family.
You can find loads of local goodies onboard Earl, from warm Cornish pasties made just a few miles up the road, to homemade cakes and bakes which change every day. They've also got fresh scones with Rodda's Clotted Cream and locally made strawberry jam and tubs of ice creams, all of this available for takeaway to enjoy on the beach nearby. www.thethirsteacompany.co.uk