Famous for its food and fisheries, the picturesque town of Padstow sits on the west side of the Camel Estuary in North Cornwall. Solid stone buildings and pretty old fishermen's cottages huddle around the harbour, whilst further up the hill you will find classic high-ceilinged Victorian and Georgian villas with breathtaking views across the estuary. 
As a favourite holiday destination, the town's population swells from 2,500 to around 5,500 in the summer months, with half a million day visitors each year. Yet the town has retained its strong identity and there is a firm bond between the loyal residents.
An example of this is the world-renowned 'Obby 'Oss May Day celebration, when the townsfolk dress in white and dance through the town with their 'Obby 'Osses (hobby horses).  Another highlight of the year is the Padstow Christmas Festival, a free festive event held over the first weekend in December, attracting over 50,000 visitors to the town at what was historically a quiet time of year.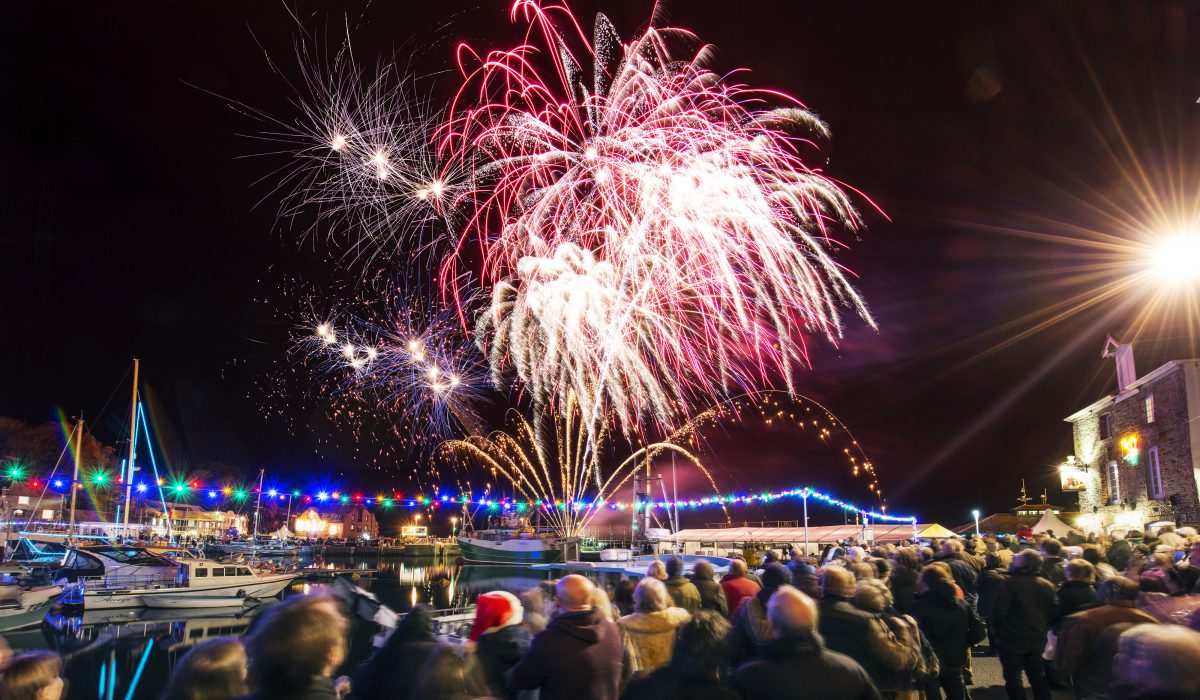 Local amenities 
Once in Padstow, there's very little reason to leave. The usual facilities of a small town (post office, newsagents, banks, supermarkets, chemists and library) are complemented by a few high street stores and an array of independent shops, including bookshop, chandlery, fudge shop and art galleries, and there's no shortage of shops selling ice cream, furniture, gifts, clothes and pasties. And of course there are plenty of places to buy buckets and spades.
Grocery shopping here can be hugely enjoyable, with bakeries, fishmongers, deli, patisserie and wine merchant in town, and the well-stocked Padstow Farm Shop (with excellent butcher) and Padstow Kitchen Garden (supplier of weekly veg boxes) very close by.
Local children are served well by the primary school; older children travel to Wadebridge or Newquay. Not many schools can claim a menu designed by Michelin-starred chefs, but Padstow School's canteen is overseen by local chefs, and Nathan Outlaw, Paul Ainsworth and Rick Stein's chefs often pop in to lend a hand.
In general, Cornwall is fairly inaccessible without a car; Padstow has a regular bus service to Newquay, Wadebridge and Bodmin, and buses also travel north from Rock, which can be reached on the ferry. The nearest train station is Bodmin Parkway, 40 minutes away, which is on the main line between Penzance and London Paddington.
On the water
Fishing is the backbone of Padstow, and despite tourism now being the main source of income for the town, the harbour is still home to a busy fishing fleet.
In a place where water is so entrenched in daily life, everyone needs to be aware of the sea conditions. The Padstow Lifeboat Station is manned by dozens of brave and hugely appreciated volunteers who save lives all year round.
Padstow's harbour is a safe haven for yachts on the treacherous north coast. There are several sailing clubs in Padstow and Rock, and the wide estuary provides the ideal learning environment for young sailors and watersports enthusiasts.
For those who require a bit more oomph, there are plenty of places to learn to drive a powerboat, or get towed behind one. Try waterskiing, wake-boarding, wake-surfing, doughnutting or banana-boating. Or head out on one of the four classic speed boats for a real thrill.
You'll see children dangling their crab lines over the edge of the slipways, members of the Padstow Gig Rowing Club out training, and keen open water swimmers practising for the annual Padstow to Rock Swim.
Popular surf spot Harlyn Bay is only three miles away; its sheltered position makes it ideal for beginners, and experienced surfers rule the waves when large swells make the conditions more challenging.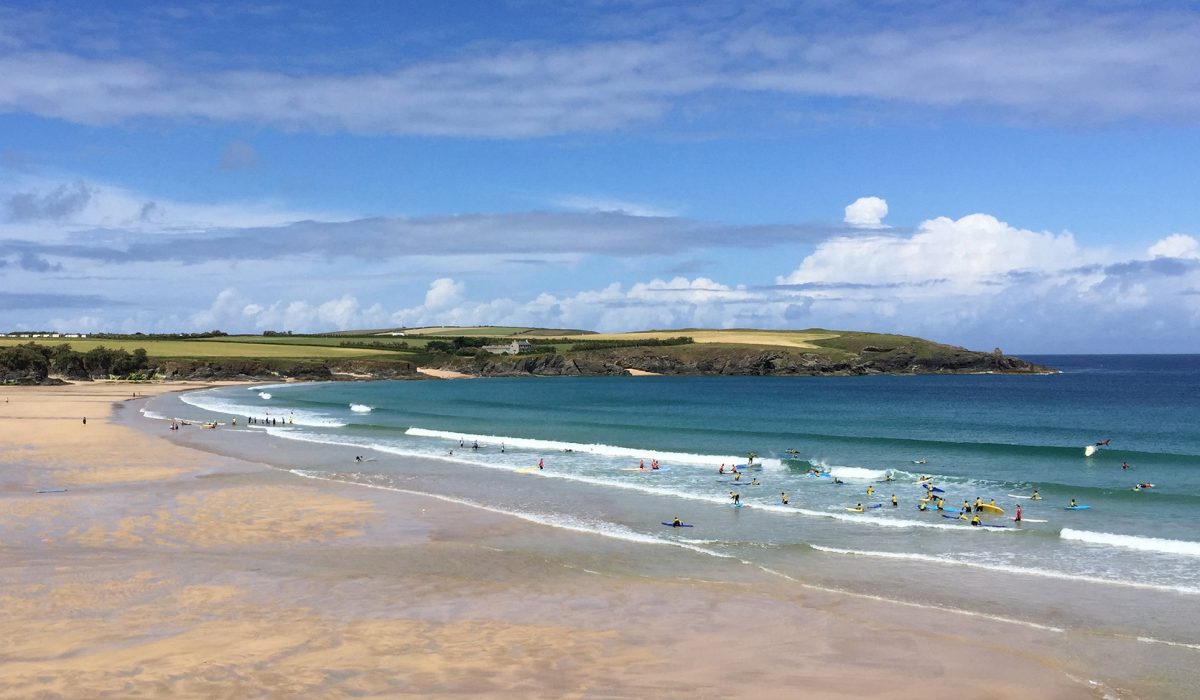 For land-lubbers
The Camel Trail extends for 17 miles from Padstow to Bodmin, via Wadebridge, along the old railway line on the banks of the river. With barely an incline and mainly traffic-free, the track is ideal for cyclists and walkers. A bird-watchers' paradise, you might be lucky enough to spot that elusive pelican, or maybe a seal that's retreated upstream.
Head in the other direction and you'll hit the South West Coast Path. After leaving the town the path passes Hawker's Cove before turning the corner at Stepper Point, and then continues around the coast of Cornwall, beyond to Devon, through Dorset, and ending at Poole Harbour.
Another popular and rewarding walk is The Saints' Way, a 28 mile trail from Padstow to Fowey, on the south coast.
Golfers are well catered for with Trevose Golf Club under four miles away, and St Enodoc Golf Club a short walk from the ferry slipway in Rock.
Eating and drinking
Padstonians are spoilt for choice when it comes to eating and drinking.
The food scene in Padstow (and indeed Cornwall) wouldn't be what it is today without the arrival of Rick Stein and The Seafood Restaurant in 1975. Since then, Rick and Jill Stein's empire has grown to encompass St Petroc's Bistro, Rick Stein's Café, Ruby's Bar, Fisheries and Seafood Bar, Stein's Fish and Chips, Rick Stein's Seafood School, Stein's Deli, Stein's Patisserie and Stein's Gift Shop….and that's just in Padstow.
Paul Ainsworth established Paul Ainsworth at No 6 in Padstow in 2006, and has held a Michelin star since 2012. Dishes here are innovative, and meals truly memorable. Paul also owns Rojano's in the Square, a Cornish-Italian restaurant where you will find what Heston Blumenthal referred to as "the best pizza outside Italy".
Other note-worthy restaurants in town include Prawn on the Lawn, Burgers and Fish and The Basement.
Wine shop and bar binTwo serves tasty light bites to accompany their great selection of wines, plus they do decent coffee.
There are pubs aplenty, with good grub available at The Old Custom House Inn, The Shipwrights Inn and The Old Ship Hotel.
Nearby, and worth jumping in the car for, are:
Appleton's at the Vineyard, at Trevibban Mill vineyard, serving superb Italian-influenced dishes.
The Cornish Arms, another of Rick Stein's establishments, and Rafferty's, both in St Merryn.
The Old Mill Bistro, at Little Petherick, is in the hands of popular local chef Adrian Oliver, who owned Margot's Bistro in Padstow for almost twenty years.
And you can hop on the boat across to Rock, but that's another whole blog…
Images courtesy of Visit Cornwall, Adam Gibbard, David Griffen and Barefoot Media.