I think I should start by saying; I am not a car person per se, unlike the guys who I would consider very much 'petrol heads'. We all do however spend a lot of time on the road, both in professional and personal life. We cover the entire county through work and pleasure, we have properties in all four corners of Cornwall; Between us we cover a lot of miles! Ultimately what's important to me is safety, comfort, economy and being prepared for the constantly changing and sometimes tricky driving conditions that Cornwall can throw at you (I imagine Martyn and Matt's list might look slightly different!).
Feeling safe and having a vehicle that feels as comfortable in a town as it does on Cornish back roads during the winter months (which can get easily flooded, muddy and slippery) and can handle the conditions in its stride, is especially true when I have my little one on board. I should also have mentioned 'space' as a feature too! I drive a popular family SUV, so I was really interested to see how these two brands compared to my trusty and much used and abused family car. Flooded roads, aquaplaning and ice have been a genuine concern during this winter in the UK and most recently snow! I often dread some of the drives I have had to do in these conditions, so I was really interested to see if these new breed of cars could save me some of those stresses.
The Roger Young showroom itself is incredibly impressive, plenty of customer parking, the building itself, the incredible range of vehicles inside but most of all the super friendly team you find within it. We were greeted by reception and coffees offered in their luxurious seating area. We were then met by Danny, the Jaguar Sales Manager, who introduced us to our car for the day, a brand new 2-litre diesel Jaguar EPACE. Danny chatted us through some of the many features this car has, the EPACE is a good-looking car and I particularly liked the colour (I am such a girl!). We are promised that the EPACE is designed to excite the senses, it combines head-turning looks with agility and performance. Tested to extremes on all surfaces and in all conditions – this is an SUV that promises to entertain, with agile handling, head-turning good looks, outstanding practicality and it does not disappoint.
The ride up seemed to take no time at all and we arrived very relaxed and in great comfort at the West Country Experience Centre, where our instructor for the day, greeted us. The centre is located on a working farm, the offices in one of the gorgeous buildings there, which was converted from a traditional brick and tile farm barn in mid 2002. You can also stay on site at the Wessington Farm B&B; it's a very picturesque and unspoilt part of Devon.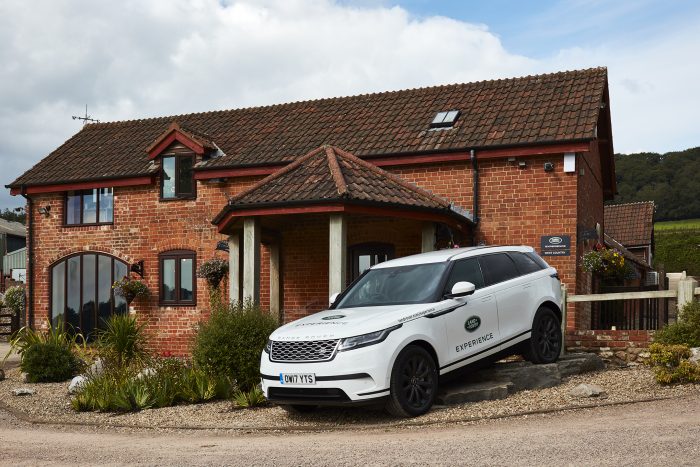 After receiving a very welcoming coffee we sat down in their light and airy meeting room to talk through what the car can do. The Range Rover Velar takes its name from the original Range Rover prototype, also an all-wheel drive (AWD) vehicle, features the legendary Land Rover on and off road performance. It also boasts four-corner air suspension, class-leading ground clearance of up to 251mm (213mm with coil springs), outstanding wading depth of up to 650mm (600mm with coil springs) and Land Rover's unmatched suite of traction technologies including Terrain Response 2 (optional) and All Terrain Progress Control (optional). Velar – like all Range Rovers – offers world-class all-terrain capability, such as Grass, Snow and Sand, or Mud ruts. Making this the perfect vehicle for off-roading as it is for doing the school run after floods of rain.
Driving the Velar is like having your own instructor constantly on board, you simply let the car know the conditions you're driving in, on its super sleek 'In Control' touch screen (Touch Pro Duo infotainment system with two integrating 10" High-definition Touchscreens!) and the car assesses the best software to drive in those conditions. I particularly like the sound of this! Talking of school runs, the car also comes with an eco setting, which is perfect for short trips.
After we had all been briefed it was time to sample what the car could do in the flesh. The first thing to notice is how aesthetically pleasing it is, I was particularly impressed by the flush deployable door handles (again, I'm such a girl) which I am told is to improve aerodynamics along with the integrated rear spoiler. Entering the car is like literally sitting in the lap of luxury, leather seats, a state of the art dash board which looks like no other dashboard I've seen before and the first thing that majorly blows me away is the 360 degree cameras the car has. Cameras are situated on the wing mirrors, boot and front and build a picture of where you are parked, for you to view on the screen. You can select which cameras you use, using the wing mirror ones to help you park close to a pavement without scuffing your alloys. I instantly think of my partner at this point, who would love me to have this feature! This goes above and beyond the park assist technology I am familiar with and the front bumper cameras would be particularly useful on the many blind junctions we have in Cornwall. All round, the car is incredibly comfortable, stylish, spacious and gives great visibility.
After a brief spin around the streets of Honiton, to see how it feels in a town environment, we are all impressed to hear the car gear box actually adapts to your driving style, at this point I really do start to realise how impressive this vehicle and it's technology is, I suspect it knows more about driving than I do. After our trip out on the road, we headed back to the Centre to start our off-roading experience. The Centre is not only incredibly well thought out but its location is stunning with far reaching panoramic views to Salcombe and Dartmoor.
Our instructor starts by telling us the key to off road driving is a slower pace, which enables us to listen and feel what the car is doing and so we can react appropriately. Hopefully this way we won't flip it, which is the last thing I want to do! We start by being taken along a rut in a hedge and the car tips to such an angle that I can only see sky through the windscreen and the ground on my left. At this point our brains will process this as being wrong and many drivers start turning the wheel in the opposite direction to compensate, when they key is keeping it straight. I can absolutely confirm your brain will think this is wrong but it was also really good fun too. The car (and Kevin) took it all in their stride, before moving us on to some other parts of the course.
Rollers recreate the feeling of slippery ground such as ice, after being put in the correct mode the car travels with ease over the slippery surface we watch on the internal screen which wheels are working hardest to compensate for the conditions. This is true of all the various vertical ascents and descents we are made to do around the course.
Next on the itinerary was deep water, the Velar very cleverly uses sonar from the cameras on the wing mirrors to detect how high the water is, once again showing you on the upper 'In Control' Touch Pro screens and how far up the vehicles you can allow it to go. If it's getting too high an alarm will sound and you'd be advised to reverse out of it. I can see the benefits of this instantly, as there have been many times I have sat staring at a flooded country lane wondering if it was wise or foolish to try getting through, or take the inevitable long detour round to miss it. This gets 10 out of 10 from me!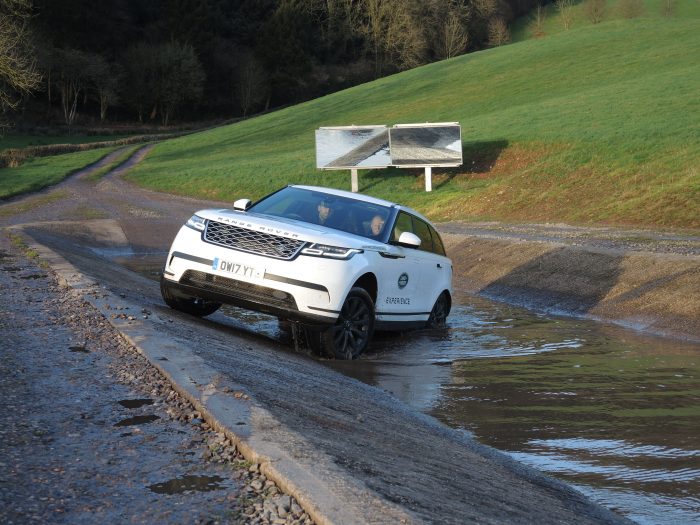 Next we drive up a concrete ramp so steep I am not convinced I could walk up it, let alone drive. I select the correct drive mode and away we go, when Kevin asks me to stop before we have reached the top and apply the brakes, all we can see is sky. It's a nice view but one I would be more comfortable with if lying relaxing on the grass rather than sitting in my car; this view should make me nervous! When I am asked to release the brakes, it feels like an alien thing to do, only a crazy person would do this knowingly or as I am about to find out, a Velar owner! Rather than rushing back at an uncontrolled speed, the car gently rolls back down the incline. You can hear the brakes and traction working, which is the Land Rovers hill descent control technology, whilst I am doing nothing. This car is amazing!
This part of the vehicle is demonstrated over and over as we move up in to the woods, high above the farmland and Centre and start to weave our way round the many warren like tracks there are. On reaching the top of a very steep, muddy and pot holed slope, I'm asked to do the same again. I'm slightly more wary this time because if the car doesn't do it's part of the deal we will fly off the edge and end up in the tree tops below. This is not the fate I want from a driving experience day out. But I trust Kevin and rather strangely I have started to trust the car, although it does feel rather odd putting all your faith into an inanimate object. Once again, I select the correct settings for the conditions and let the car do the work, there is something very wrong about not having your foot on the brake when you are going down a near vertical hill. It took every fibre of my being not to take over from the Velar but there was absolutely no need for me to do so. The car controlled its descent beautifully, leaving me just to focus on the steering. I should also add at this point, that even this was made easier by the exterior cameras showing me on the screen where my wheels were and how much room I had on the narrow paths we were navigating. Again, another great feature for our tiny Cornish lanes and also invaluable for reversing the 100's of times we all have to do during the busier summer months on our often pot-holed lanes.
In summary its fair to say this is a very impressive car and all of us were blown away by its capabilities. Whilst I don't think I'd make a habit of driving down vertical hills without braking, I do love all of the safety features this car offers because of its technology. All of these programs are working away in the background, ready to kick in at the moment you might need it most, like black ice or water logged roads, two things I do worry about during the winter months. I think the Velar would be perfect for young execs that appreciate cutting edge technology, families (it has a massive boot too) and ultimately people who love cars and driving!
The whole day was brilliant and aside from the fabulous cars we got to experience, the best part was all of the people we met that day. Everyone was so friendly and accommodating and for me, I was put totally at ease in a scenario I'm not 100% comfortable with, by Kevin and all at the West Country Experience Centre. I cannot recommend it and them highly enough.
We'd like to say a HUGE thank you to all the team at Roger Young for making this great day possible and would highly recommend anyone thinking of buying a Range Rover or Jaguar (new or used) to visit their showroom and be made to feel as welcome and informed as we were. It's also worth noting, if you buy a Land Rover from Roger Young you instantly get a half day at the Centre, so you can be shown what your vehicle can do, now that's customer service!
For more information please visit: www.rogeryoung.co.uk  and www.westcountry.landroverexperience.co.uk 
*COMPETITION / GIVEAWAY*
To be in with a chance to win this experience for yourself and two others, please visit out Facebook page to enter.
T&C's for entry:
*The closing date for this competition is midnight on the 31st March 2018. Entries received after this time will not be counted.
*All drivers must have a Full Driving Licence
*No more than 6 Penalty points
*Passengers must be over 6yrs old
*Max 2 additional guests (ie Winner + 2)
*The voucher is only valid for 12 months from date of winning prize.
*Prize only valid at the Honiton Centre
*We accept no responsibility for entries that are unsuccessful due to a technical fault.
*The winner will be chosen at random by Rohrs & Rowe within 7 days of the end of the competition.
*The winner will be notified on Facebook and must confirm their details to claim their prize. If the winner does not respond within 7 days of being contacted, Rohrs & Rowe reserve the right to select another winner.
*The prize is non transferrable and there is no cash is alternative available.
*Only one entry per person will be counted.
*Travel costs are not included in the prize and the winner must make their own way to the Centre.