Tell us a little bit about your lives/what you were doing/where you were living prior to taking over the gallery?
Brian and I have both been involved in the arts since graduating in Graphic Design. We met in the late 70's while working as art directors for advertising agency J. Walter Thompson. Brian proposed to me after a Siouxsie and the Banshees concert at the 'Roundhouse' in Camden in 1978. We lived and worked in North London, taught design and advertising at Kingston School of Art and in 1984 established an international, award wining design consultancy called 'The Green House'. I never stopped painting and throughout my design career attended life painting and drawing classes at the Slade School of Fine Art. Following a joint decision in 1999 Brian went freelance as a design and art director which gave him the flexibility to work from any location. I was awarded in 2001 a place on the first M.A.Drawing Year at the now, well established Royal Drawing School in Shoreditch, London. Around 2005, following a successful start to my painting career, I made the bold decision to paint full time and rented a studio in Highgate and Wood Green before the move to Cornwall, exhibiting at the Royal Academy Summer Exhibition, selected for the Threadneedle Prize, Lynn Painter Stainers Prize, Royal West Academy, Medici Gallery, Cork Street and thrilled to have been selected for the Biennial Ruth Borchard Self-Portrait Prize Exhibition 2019.
We have two talented daughters Jessika (archivist for a prestigious artist in London) and Sophie (Head of acquisitions and development for Bankside Films) our new recruit to the family is a Tibetian Terrier called Luna (sometimes a lady).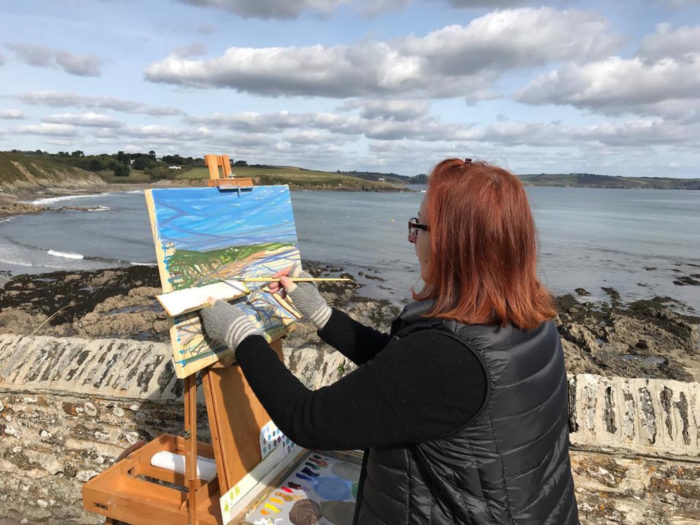 Judi Green at work.
What made you decide to move to Cornwall and in particular choose Tregony, above more obvious locations like St Ives?
We had always talked about moving out of London, many close friends had made the move and we were excited at the prospect. The desire to move out of London was very strong. Owning a gallery was not in our plans at the time as we were more focused on finding the right property, a detached cottage with a garden within a village so we would not be too isolated. Initially, we thought we would be looking at a second home perhaps in Devon and after several years of searching, weekends away staying with friends or local hotels and B&B's by 2005 we landed in Tregony, a traditional, unspoilt, working village with a strong heart. Close to Truro and major transport links in one of the most beautiful areas in Cornwall 'The Roseland Peninsula' an area of outstanding natural beauty the perfect location for me to build a studio and concentrate on developing my work and Brian to continue to freelance and have some chickens.
How have you found the change/work-life balance, compared to where you lived and worked before?
We are just as busy as ever. It's less polluted and stressful, more fresh air, long walks, big skies, and a feeling of being much more in control of our life. Happy. Family and friends love to visit so we get plenty of quality time rather than a quick bite or a passing visit. Making sure they all don't stay too long is a challenge!
What lessons have you learnt and any advice you'd give to someone thinking about making the same type of move?
Don't rush it, take your time to get to know an area, do your research. Come and visit, stay and rent a property first. I think we spent about five years preparing for this life-changing move. Its taken ten years for us to be accepted as part of the community, but to be honest we will always be outsiders because we have come from a big city and don't have family here in Cornwall. However, Brian has recently found out that his paternal grandmother was born in St Austell so that might make him almost Cornish.
Having major building work done on a property and you not able to be around can be a big challenge, it is better if you can be on site or employ a project manager. Builders make decisions, if you're not available they may not be to your taste. Spend time in your local pub, everything you need to know you can find out there.
What makes Tregony gallery different/stand out from the crowd?
Brian and I have been working in the creative industries for over thirty-five year's and have built a powerful bridge between Cornwall and London since running the Tregony Gallery from 2015. Representing several London based artists who in themselves have Cornish connections, I continue to exhibit frequently myself in London and have maintained contacts with all my collectors who have been really excited about us taking over a gallery and of course our clients and creatives from The Green House days. Brian and I visit as many exhibitions we can possibly fit in, as well as embraced the opportunity and started a major rebranding and repositioning of the gallery's identity and direction by building relationships with artists and collectors, culminating in an artist run gallery focusing on distinctive figurative painting. Curating over eighteen exhibitions over the past four years we are providing new opportunities for artists and a unique contemporary focus for art in Cornwall. As experienced visual practitioners we understand every aspect of the process and are able to provide judicious support and unlimited encouragement for all our artists.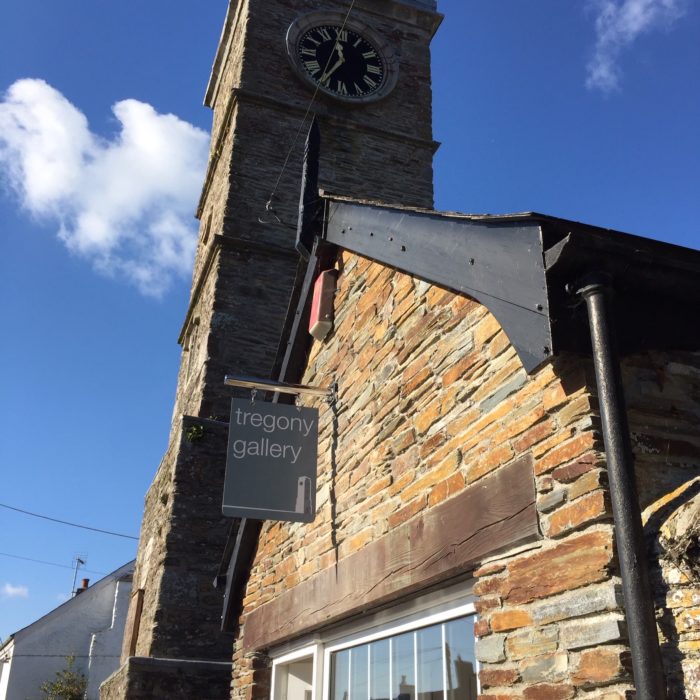 Tregony Gallery next to the ancient clocktower.
What challenges have you found, both to moving to a new area and opening a gallery?
Moving to a new area is tough, you do not have the support network of close friends and family anymore, therefore it is important to make an effort to support your local community from the village pub to, in our case the annual 'Tregony Heavy Horse Fair' to the 'Clockhouse Players' and Christmas lights. Having visited the area many times in the early years we already had made some good friendships, which helped. We made the final, permanent move in 2009 following several years of renovation and delays. It is still difficult some days. Owning a gallery was not part of our original plan. Situated next to the ancient clocktower 'Tregony Gallery' had been established for over fifteen years, in 2015 when the opportunity presented itself we jumped at the chance to take over the running of the space and make it our own. We have worked tirelessly with passion and commitment to develop our own independent vision to promote serious and meaningful work, which has attracted international recognition. Tregony is the 'gateway' to the Roseland Peninsula and our biggest challenge is footfall. The gallery is at the centre of the village and on a very positive note we have become much more established within the village as we welcome locals who have never stepped foot in the gallery ever before and the school children and art teachers from the Roseland Academy come and visit for workshops. Owning our own gallery is living the dream even though it is hard work, it has taken us all over the country meeting new artists from Cornwall and further afield. Brian and I never moved to Cornwall to retire and it has given us a new outlet for our creativity and passion for collecting and exhibiting art.
Tregony Gallery.
Tell us about the kind of art and artists you showcase at the gallery/gallery ethos?
Continuing our dedication to art and a continual pursuit for excellence, Brian and I have honed our ability to spot artists that have something different in the way they see and interpret the world. Our artists are genuinely engaged with individual research, they all take risks to satisfy their restless curiosities. The gallery's artists are divergent but share a common sensibility to their work: a natural sensitivity that enables the viewer's direct engagement with their subject and intangible influences that led to the creation of each work. Now, Tregony Gallery boast an impressive roster of distinguished Cornish and International artists and is the perfect venue to enjoy a balance of original work by modern British and contemporary artists. The gallery runs a distinctive program of exhibitions and has formed new relationships with visitors, collectors and the creative media.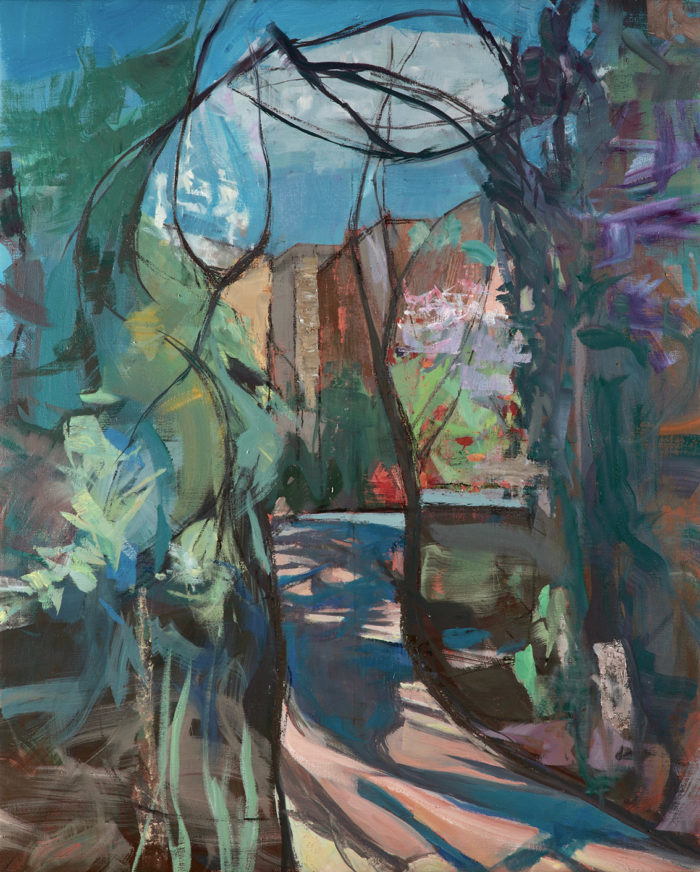 Jason Bowyer-Gardeners Pathway II.
What services do you offer (to customers looking to buy)?
As art directors we both have a depth of knowledge and understanding of placing art in residential and business locations, we offer a full advisory service to all our buyers on starting a collection as well as those wishing to add to an already established one, additional advice on interior design, using an idea from a painting or colour scheme suggestions, framing, curating and installing paintings and sculpture. Postage and shipping to all over the globe from London to Cuba. Tregony Gallery is a member of 'Own Art' where artworks can be purchased in interest-free installments, over 10 months making purchases more affordable.
What have you been most proud so far/your greatest achievement(s), since taking the gallery on?
In addition to supporting established artists we nurture young and emerging artists within art schools and colleges, awarding our annual Tregony Gallery Art Prize, creating the opportunity to exhibit alongside some of the gallery artists from around Britain and as far afield as America. Presenting our first exhibition for 2019, 'Assemble' in central London. Assemble introduced our impressive contemporary artists to a new audience and we were able to share our vision and approach to curating and collecting art.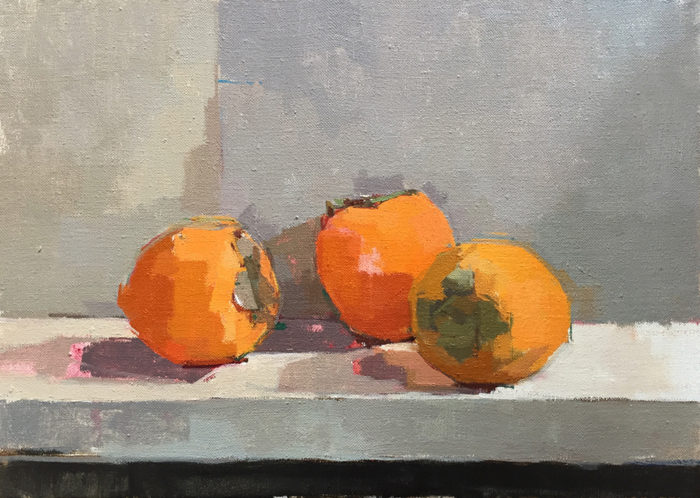 Sarah Spackman – Sharon Fruit.
Brian & Luna at the Gallery.
For more information visit: tregonygallery.co.uk