We have been fans of Tom Raffield's work for a long time so we were delighted when he agreed to answer a few questions for us about his inspiration, Cornish work-life balance and his latest creations.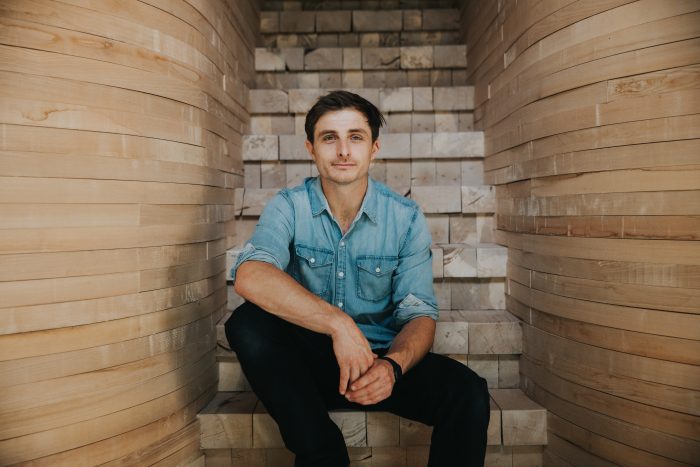 Tom Raffield pictured at his 'Grand Designs' house.
How did your journey into this field begin?
My fascination with the traditional practice of steam bending and sustainability began whilst studying 3D Design for Sustainability at Falmouth College of Arts where I discovered the traditional technique of using a chamber wouldn't allow me to create the complex 3D bends I had envisaged. Years of research and experimentation allowed me to develop a new steaming method to turn my design visions into reality.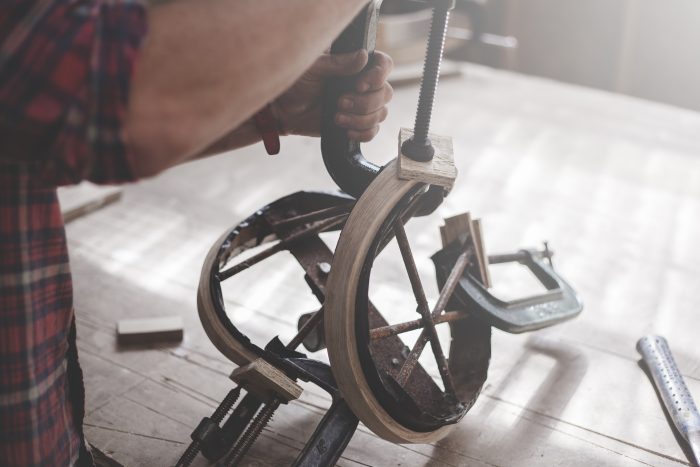 How did you get to the position you're currently at?
With lots of hard work and a little bit of good luck! I originally co-founded the award-winning collective design company Sixixis [recognised for its unique aesthetic and forward-thinking designs] before setting up Tom Raffield Design in 2008 with my wife Danielle – we continue to create spectacular, ecologically sound, innovative furniture and lighting to this day. I didn't do an apprenticeship myself but a few members of our workshop team are currently undertaking them through Cornwall College – they are an invaluable way to get into the design world and offer great hands-on experience. I'm incredibly lucky that people seem to like the designs I love creating.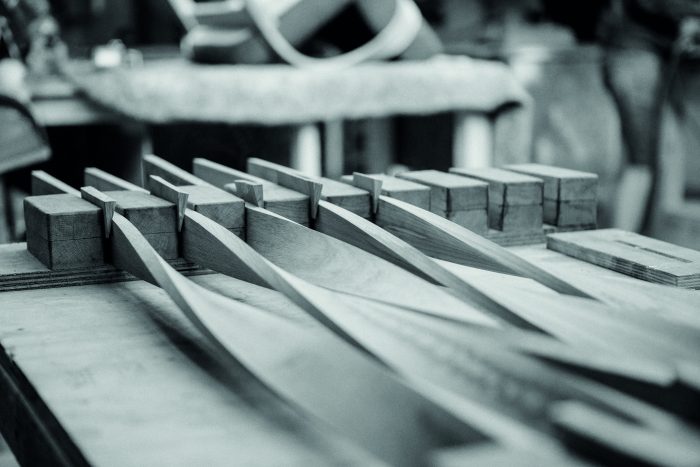 Where does steam bending originate from and what is the appeal to you?
Steam bending is a traditional process steeped in history. It was once a vital practice, paramount to the production of weapons, tools and water vessels but sadly, with the advance of technology, the practice has become less common. Steam bending is also a low energy and ecological method of manipulating wood with no nasty glues and very low levels of waste. The technique is perfect for sculptures and one-off pieces but is very time consuming and therefore suits our made-to-order approach. It's really an art process, enabling the artist to shape wood as you might shape clay.
What kind of products do you create and what is the Tom Raffield ethos?
We create a range of steam bent lighting and furniture including our iconic No.1 and Skipper Pendants, beautifully intricate chandeliers and a variety of chairs and accessories. We've also launched our new Green Range which consists of four indoor contemporary planters for houseplants. Our ethos is to create innovative, sustainable heirlooms of the future – products that will be cherished for years to come and that don't take away from the planet.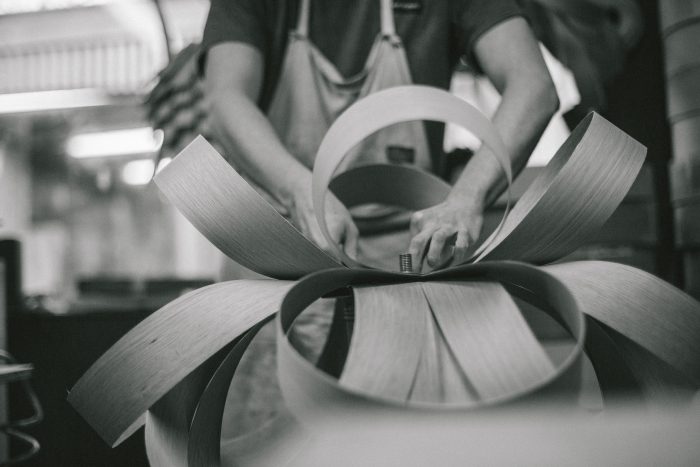 Tom Raffield's iconic Skipper pendant 
What are the influences for your latest Noctis range?
For Chelsea Flower Show this year we steam bent a huge pavilion with an ebonised black interior with the eye to really make our natural wood products pop. We loved the process of ebonising so much that we wanted to re-invent a few of our bestselling, most signature pieces and show them in a whole new light. Dark interiors are also very popular right now and we love the aesthetic!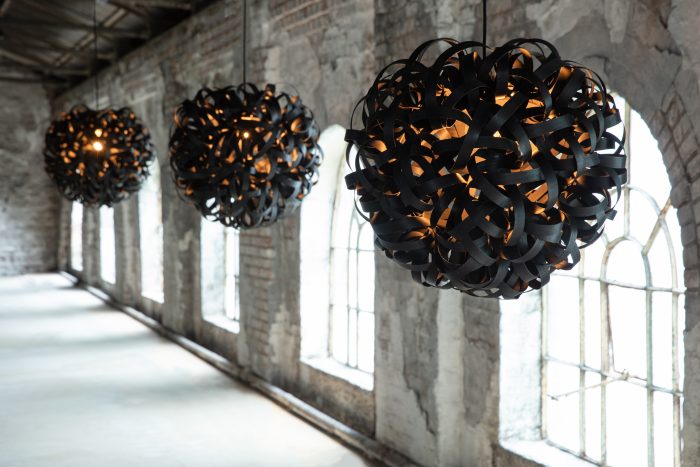 Noctis No. 1 Giant Pendant
What is your relationship with Cornwall and how does it influence your work?
Every corner you turn, there is inspiration to be had. I think it is safe to say that it has a lot of influence on my designs and the way I create. Cornwall is a place of vast extremes. Woodlands, the coast, rivers and mine worked land, we really have it all here. I think that is what makes the place so special. There's a lot of history here and a lot of beauty, combined with what really is a remarkable area to live in.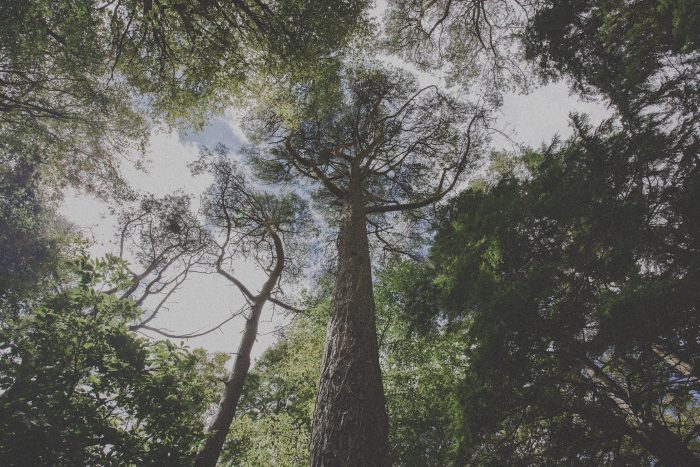 What is so great about the work-life balance here?
One hour I can be in the workshop testing prototypes or bending wood for a new structure and then the next sat on a beach with my family. Having outdoor space that is vast and so different is the key for me. I love being outside and all of my hobbies include fresh air, Cornwall is just the perfect place for me.
Where is your favourite secret Cornish spot and why?
It would have to be tucked away at the back of the woodlands here at Trevarno. There's a lot of memories there prior to building the house and when the business was at a whole different stage. It's a good spot to reflect and also think ahead to making plans for the future!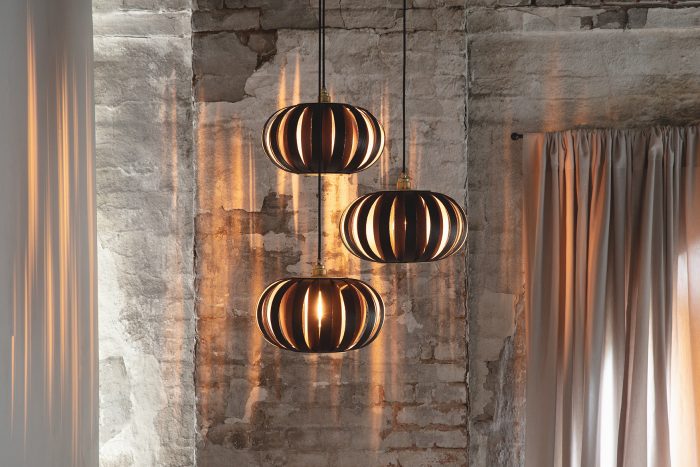 Noctis Urchin small cluster
What does the future hold?
In the short term, our brand new Noctis product, Christmas campaigns and we have also started working on a project for the Royal Parks in London with Mizzi Studio and Colicci. It's a busy year ahead!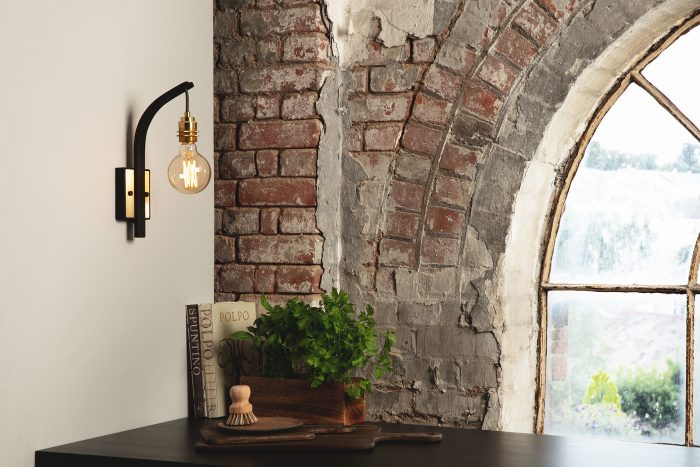 Noctis Wheal Wall Light
If you would like to find out more about Tom Raffield, his latest Noctis range and all of his other gorgeous furniture and lighting, you can visit his website for extra details www.tomraffield.com