The spaces we inhabit matter. They have a profound effect on us – how we feel and behave in them. Buildings are the crucibles in which we grow, learn and work; interiors the sets against which life unfolds. Interiors and architecture and indeed landscape design has the power and potential to enhance the timeless activities of domestic life. It's not just about aesthetics; the visceral experience is never to be underestimated and is something that should be considered throughout the design process.
In this piece, we begin to briefly describe our involvement and the development of a unique manor house, sold by Rohrs & Rowe.
Architectural Services
Architectural Services are split into Work Stages as identified by the RIBA as follows.
Stage 1 – Preparation and Brief
Stage 2 – Concept Design
Stage 3 – Developed Design
Stage 4 – Technical Design
Stage 5 – Construction
Stage 6 – Handover and Close Out
Stage 7 – In Use
Molesworth Manor – Stages 1 – 3
Initial Client Contact
We were contacted during the purchasing process by the purchasers of Molesworth Manor with a view to meeting with us to discuss their potential new acquisition and how best to deliver their vision for their home in the South West. This is a service we offer and have been engaged on a number of property purchases to provide an initial review of their potential to clients.
On this occasion, the purchasers had seen examples of our work in Cornwall Life magazine and other publications and were particularly impressed with the quality and range of work that we have completed. They also commented that we didn't appear to have a set house style, something that we are very proud of, as we treat each project as a new challenge and approach it with a clear and fresh palette.
About the property
Molesworth Manor is a significant property not only as it is a Grade II listed building and is thought to date to 1854, a recent historic assessment has identified that it has earlier origins, perhaps as a 17th-century three-room and cross passage building; but it is also significant as the total floor area exceeds 900 m2 or 9000 sq. ft. The property comprises the main manor house a linked stable block and cottage set within landscaped gardens in an extremely desirable location between Padstow and Wadebridge.
Once the purchase of the property had been completed with award-winning estate agents, Rohrs & Rowe we arranged to meet with the clients.
Prepare an initial brief
We always advise that it is worth writing a brief before we meet, this can range from requirements, in terms of accommodation, the budget, certain materials, fixtures or finishes that are favoured and if there is a particular design direction.
We spent the afternoon walking around the house and grounds and over cups of tea and coffee we listened and tested the client's initial ideas for the property.
Engage a capable design team
We discussed the appointment of a design team, something that is essential to each project is having an excellent support network of engineers, makers and companies that share our enthusiasm to provide excellence in their work. We have an outstanding network of contacts from fantastic curtain makers to lighting consultants and building contractors across the South West that each have a skillset that we will select to best deliver, on a by project basis.
Having returned from the meeting it was fantastic to receive an email from the clients confirming our appointment and approval of our first successful meeting.
"It is with great delight that we attach the signed fee proposal. Both P and I appreciated your enthusiasm and input on Monday and also your challenging of our pre-conceptions on what the final product can look like."
Considered and sensitive design proposals
After a few months of meetings and design development, we were at the point of submitting our planning and listed building application for a very exciting project.
The works comprise sensitive reconfiguration of the internal layout of the ground floor to provide rearranged facilities; which includes the conversion of the unused stable block into a spa and wellness facility, relocation of the kitchen which will now incorporate a breakfast room, into what was a conservatory, a bright sunlit space; a wine tasting room and library; a field kitchen in the courtyard for alfresco dining and suitably sized boot room and utility spaces to name a few.
On the upper floors we have proposed sympathetic alterations to the layout of some of the bedrooms and en-suite bathrooms to enlarge them to provide exceptional bedroom suites with fun features such as minibars and secret doors; an original take on a games room and a new state of the art cinema room.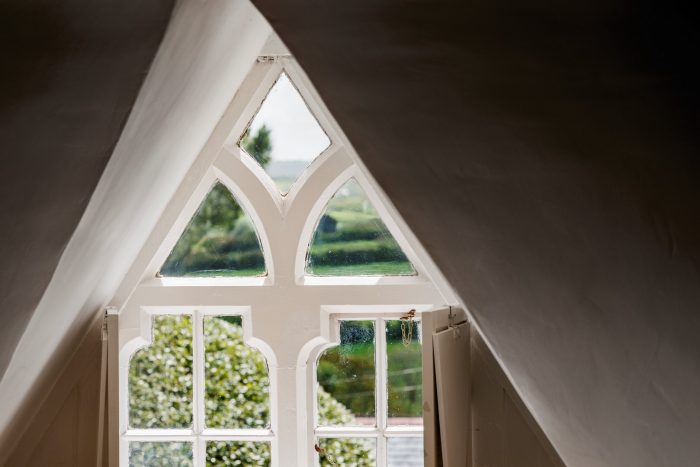 Externally we have proposed minimal interventions to the historic fabric of the buildings and the sensitive repair of features and restoration and renovation of doors, windows and the slate roofs, with any new fittings and fixtures to sit with and where possible enhance the existing character.
A light touch landscape approach serves to allow activities to spill out from the house, whilst enhancing privacy.
Added Value
During the design development we discussed and proposed the idea of the property potentially being let by a leading exclusive home letting agency, something that was not at the forefront of the clients' minds but after developing the project with some exciting feature facilities and some anticipated rental income figures this idea became an exciting potential income stream. We have excellent relationships with the leading holiday letting providers.
Have a vision
Whether you are restoring a listed building or a coastal retreat one should look to create spaces that nourish and surprise; that offer sanctuary and that possess the qualities of longevity and integrity. Every project is a blank canvas – a unique opportunity to articulate ideas through shape and form. Preparing a brief that sets out your vision for your spaces will assist you and your designer in interpreting your vision.
Be inspired
The wild charms of the South West offer a unique inspiration to inspire the creative process, whatever your inspiration this should be honed with practicality. There is a perpetual dance in design between curating complementary backdrops and focal points within schemes and whilst materials should surprise and delight producing a cohesive scheme requires discipline and devotion to detail.
Rationalised designs
Rationalising interiors and architecture and delivering designs which actively support the practical rigours and uses of a space, without compromising on style and originality is a talent. Colour, form, materials, pattern, textures; there's a myriad of choice and editing to produce a coherent result is a refined skill. Lighting can transform a dull space into a dynamic and inviting space. Fabrics can be a reflection of your character and make statements about the use of a space, whether playful and fun or chic and refined. Paint colours should work elegantly and harmoniously together and be complementary to finishes and furniture.
Aspirational homes
Homes should have the purpose of nurturing us, making togetherness and connection a priority, and this demands real attention to the design process and can only be achieved through ongoing consultation and collaboration to create unique and outstanding homes that are tailored to your lifestyle.
A bit about us
Woodford Architecture and Interiors are an award-winning chartered architecture and interior design practice that create unique and outstanding homes that are tailored to our client's and their lifestyles. We are specialists in country retreat design and from our studios, we work on homes in Cornwall, Devon and the South West. Our talent is providing a truly integrated architecture and interior design service and this is how we deliver homes that our clients love. We are delighted to work with Rohrs & Rowe who share our passion and enthusiasm to deliver the best service on some of the best properties in the South West.
In the next blog, we will continue our journey and look at the next RIBA stages development of the project.
To find out more about the work Woodford do, visit their website >